Description
Reviews
Others In Series
DeMarini
DeMarini Black OPS™ Bat Pack

Armored BarrelLock bat sleeves for 2 bats. Protective hatch for helmet, glove, and gear. Breathable, adjustable shoe compartment. Load-lightening ergonomic strap system. Hideaway fence claw. Expandable bottle pocket. Organization panel with batting glove zone. Customization zone with removable patch.

Dimensions: 11" x 13" x 19".
Colors: BLACK, WHITE.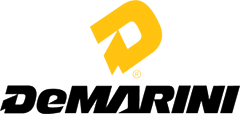 One player and one team at a time, DeMarini has taken the baseball world by storm, quickly becoming a leading name in college baseball. In the past seven years, more than 250 college teams have joined DeMarini Nation - Including top teams like Arizona State, Cal. State Fullerton, Vanderbilt, UC San Diego, UC Irvine and University of Tampa. Will you be next?