Description
Reviews
DeMarini
Demarini ID2P Wheeled Bag

Demarini's ID2P is serious bag that can handle all your equipment. It features a waterproof, composite treaded base material that offers extreme durability and performance, along with wheels for easy mobility.

• Extra-large main compartment fits helmets, gloves, cleats or a complete set of catcher's gear
• Individually padded bat sleeves hold up to 4 bats
• Separate shoe bag included
• Fence hooks
• Wide-set treaded wheels
• Waterproof composite treated base material

Dimensions: 15.5"W x 12"H x 34.5"L
Colors: BLACK/ROYAL
Holds Gear Well
Protective
Stylish
Comments about Demarini ID2P Wheeled Bag:
Very helpful for my dad as he can carry his baseball and softball equipment including catchers gear. He no longer needs to have multiple bags for his equipment.
Comfortable
Holds Gear Well
Protective
Comments about Demarini ID2P Wheeled Bag:
great bag, wheels are smooth even with fully loaded.
Comments about Demarini ID2P Wheeled Bag:
Seams easily tear.
Comments about Demarini ID2P Wheeled Bag:
After 3 months of use, the zipper to the bat compartment broke. Based on other reviews it appears this may be a manufacturing flaw for the bag. I called Baseball Express and they offered a full refund of the bag (we were still within their warranty period). Unfortunate (but I guess understandable) dilemma is that they won't refund the money until they receive the damaged bag back. That leaves my son using his very old, very small, very beat up bag for the remainder of the season. But, at least we are getting our money back! Other than the zipper problem my son thought the bag was working well. Lots of room for all his catchers gear, multiple gloves, bats, and shoes. The fence hooks seemed a little flimsy, so my son typically just set it up against the fence and used the hooks to simply keep if from falling over as it sat on the ground.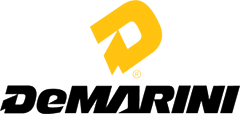 One player and one team at a time, DeMarini has taken the baseball world by storm, quickly becoming a leading name in college baseball. In the past seven years, more than 250 college teams have joined DeMarini Nation - Including top teams like Arizona State, Cal. State Fullerton, Vanderbilt, UC San Diego, UC Irvine and University of Tampa. Will you be next?