Description
Size Guide
Warranty
DeMarini
DeMarini 2013 SF5 ASA Slowpitch Softball Bat
DeMarini's Doublewall construction has been crushing tape measured shots for over two decades and the intensity is just heating up. Using the new SC4 Alloy, DeMarini was able to fine-tune the thickness of the legendary Doublewall barrel to stretch the sweetspot wider than ever. From the walls in the bat to the walls in the outfield, the Doublewall barrel sends the ball on a long, painful ride with no apologies.
SC4™ Alloy
Proprietary aluminum extrusion provides a thickness-tuned wall that reaches down the entire barrel to create a wicked sweet spot that can stand up to each crushing blow.
Stacked Barrel Construction
Two or more independent walls create a dynamic springboard hitting surface giving you a sweet spot with an explosive trampoline effect.
N2M™ End Cap
Specifically tuned to absorb vibration while maximizing power.
Half & Half™
The handle and barrel are performance matched to create optimum flex and recoil with a burst of ball launching energy at impact.
Rotation Index™
Numerical system reminds players to rotate bat extending its life.
Bat Specifications
Drop: 34in 27oz
Barrel: 2 1/4"
Handle: SC4™ Aluminum Alloy
Certified: ASA, USSSA, NSA, ISA, and ISF
Barrel Load: Endloaded
Material: SC4™ Aluminum Alloy
Construction: Two-piece
Grip: Positack™ 2 Grip
Warranty: One Year Manufacturer's Warranty
Sizes: 34in 27oz
Need Help Choosing The Right Size Bat?
Click Here for a Bat Sizing Guide.
Most aluminum/ composite bats carry a one-year manufacturer's warranty against defects. Team Express also offers a 30-day return policy for all unused new bats. (Please see the details of the warranty and return policy below.)

NEW (UNUSED) BATS:
If you are not completely satisfied with your new bat, you may return it to us in its original "shrink-wrapped" packaging within 30 days from the date of shipment. Simply call us at 800.937.4824 for a return label.

DEFECTIVE OR DAMAGED BATS
All defective or damaged aluminum/ composite bats must be returned to the manufacturer. Defective or damaged bats may be returned to the manufacturer for repair or exchange within one year of the purchase date. The bat manufacturers' phone numbers are shown below for your convenience. Please call them directly to obtain a return authorization number (RA#). We recommend that you keep your bat invoice as your proof of purchase.

DeMarini Bats: 1-800-937-2287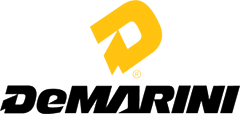 One player and one team at a time, DeMarini has taken the baseball world by storm, quickly becoming a leading name in college baseball. In the past seven years, more than 250 college teams have joined DeMarini Nation - Including top teams like Arizona State, Cal. State Fullerton, Vanderbilt, UC San Diego, UC Irvine and University of Tampa. Will you be next?
Customers who viewed this also viewed these